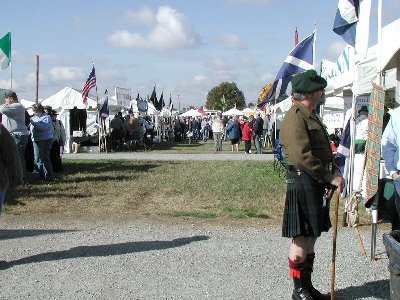 HEAVY VISITOR TRAFFIC
Visitor traffic is heavy and business is brisk in the Clan Society tent area at the 2004 Richmond games. Cool, sunny weather kept people moving!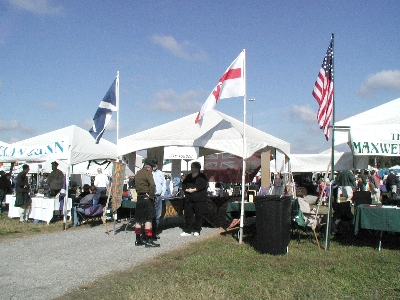 CLAN POLLOCK TENT AND DISPLAY
Clan Pollock tent at the 2004 Richmond games had many visitors stopping by to ask about either family history in general or genealogy resources for the family names.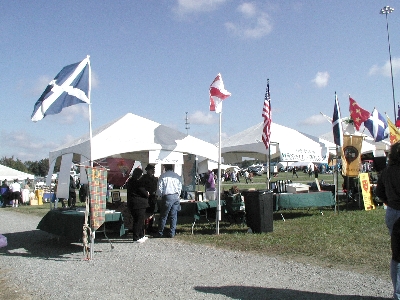 POLLOCK AND MAXWELL TENTS
As often as possible, the clans Pollock and Maxwell set up tents next to each other to reinforce the fact that throughout both families histories, the two were closely associated through marriage and consequently, property.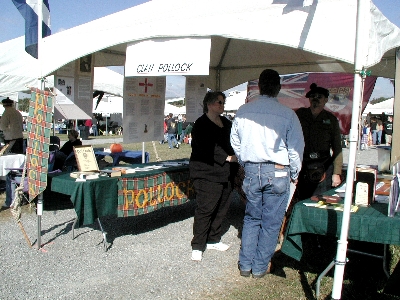 YOUR SOURCE FOR INFORMATION

The task of Clan Commissioners is to disseminate information about the family, the society and sometimes just where to look for more personalized information. Here, Andy Easter is assisting visitors who stopped by with questions. If you happen to be at any of the games we will be convening, please stop by just to say hello!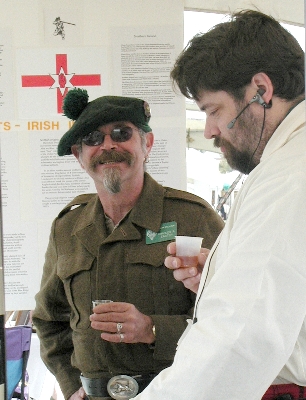 A READY HOST...
Well then, if ye come in thirsty, we canna let ye leave dry!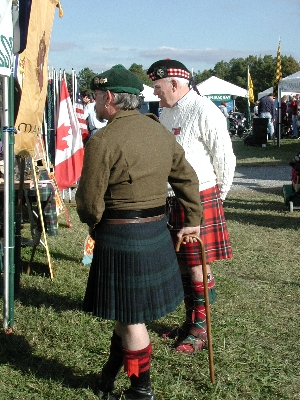 A POLLOCK AND A GREGOR
Two "Clan Tent Commandos" trade stories in front of the Maxwell and Pollock tents.