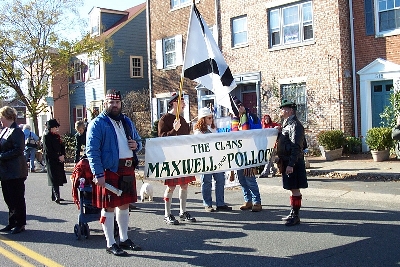 Andy Easter and Rob Pollock stand in Rob's new tent and display holding Pollock and Maxwell banners. The two families have been closely associated and intermarried throughout their histories.
ALEXANDRIA 2004 BENEFIT CHRISTMAS WALK
The 2004 Alexandria, Virginia benefit Christmas parade had a very nice turnout. Ben Pogue and his Westie joined in, the Westie shamelessly worked the crowd, administering licks and letting people pet her. Clan Maxwell USA's Vice President, Steven Maxwell, his wife Kristin and their lovely daughter Alicia, who handed out candies to the little ones along the parade route also joined in. Dick Maxwell, Chesapeake Zone Commissioner for Clan Maxwell USA and his wife Barbara bundled up and joined in the fun. Danielle Easter and her friend Steve came to join the group, wearing the Pollock colors. After a lovely parade, all joined together to have a friendly lunch at Portner's restaurant in Old Town Alexandria.